This Sunday, the 2018 Intercontinental GT Challenge will be decided at the Laguna Seca Raceway California 8 Hours. Four drivers are still in contention for the title, each at the wheel of a different car: Raffaele Marciello and Tristan Vautier both represent Mercedes-AMG while Markus Winkelhock and Christopher Haase drive Audi cars.
The Weathertech Raceway Laguna Seca enjoyed plenty of sunshine today, for both the Free Practice and Pre-Qualifying sessions. All teams and drivers completed their preparations for Saturday's qualifying and Sunday's race without major hiccups.
The drivers' championship will be decided through a four-way fight. Raffaele Marciello and Tristan Vautier lead the standings, with an 18-point advantage over Markus Winkelhock and Christopher Haase. Although both duos raced together during the first three rounds of the 2018 Intercontinental GT Challenge, their respective manufacturers (Mercedes-AMG and Audi) split them up for the season finale, in order to maximise their chances for the drivers' title. We caught up with the four of them.
Raffaele Marciello (#43 Mercedes-AMG Team Strakka Racing, 58 points): "The fact that Tristan and I do not drive together for this race is not really an issue, nor the fact that I have switched teams. The important thing is that Mercedes-AMG take the manufacturers' title, so we will both try to score as many points as possible. It is the first time that I race at the Laguna Seca Raceway, but it's not such a difficult track to learn."
Tristan Vautier (#175 Mercedes-AMG Team SunEnergy1 Racing, 58 points): "It is a bit of a bizarre feeling not to drive with Raffaele. We've shared the car for the whole season, in other championships as well. But the decision to split us up makes sense, it gives Mercedes-AMG a bigger opportunity to claim the drivers' title. Now it's up to me to try and win it."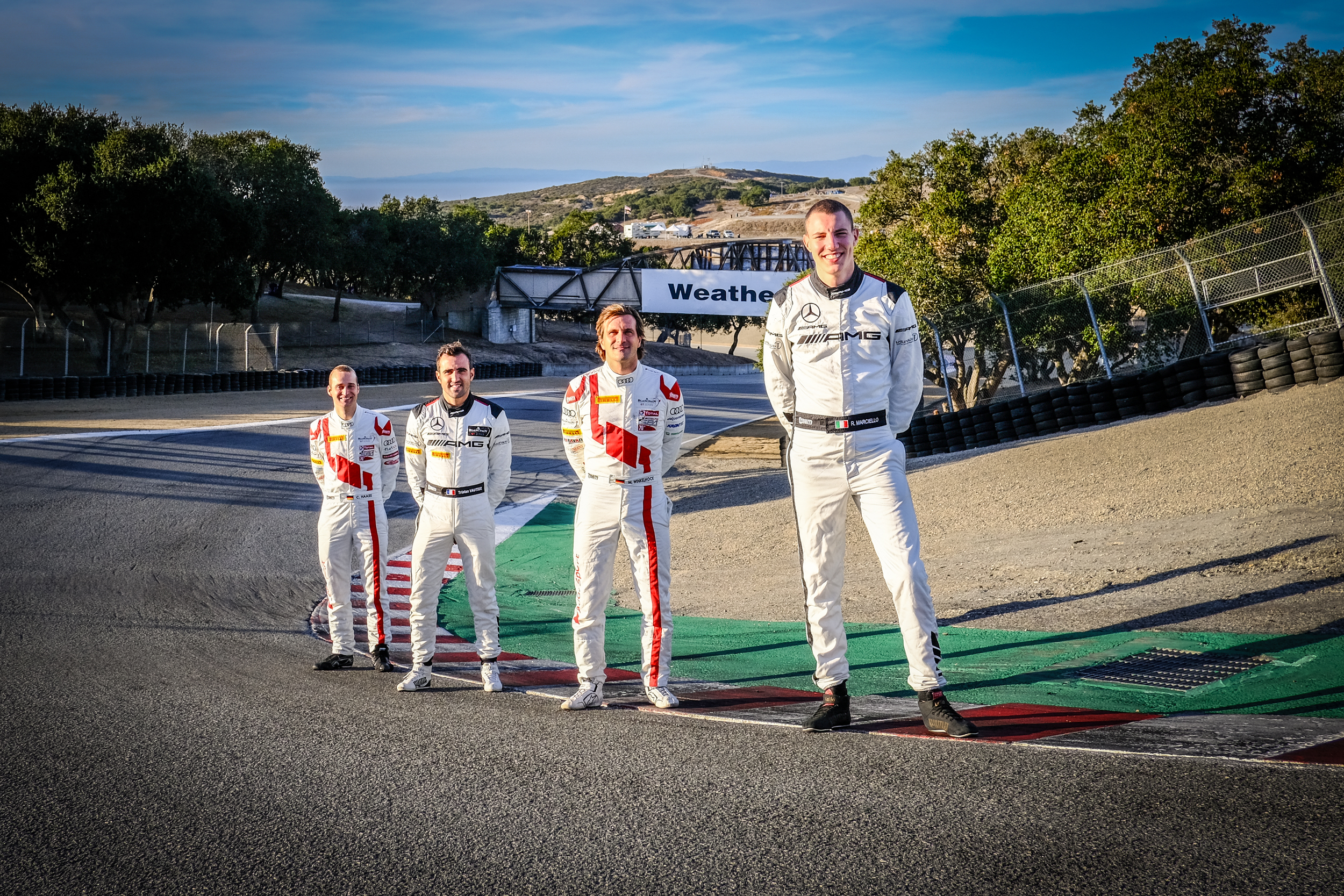 Markus Winkelhock (#19 Audi Sport Team WRT, 40 points): "Honestly, I don't think about the championship. I never do. I always focus on the event itself and try to drive an as good a race as possible. Once the race is over, I'll look what my race result means for the championship. In my experience that's the way to get the best possible outcome."
Christopher Haase (#29 Audi Sport Team Land, 40 points): "The atmosphere between all the Audi drivers is good, so there is no animosity between Markus and myself over the fact that we are now at the wheel of different cars. I see this as an single event, and my main focus is to try and win the race. If that is enough to claim the title, great."
For the manufacturers' title two candidates remain: Mercedes-AMG leads Audi by nine points. The third title fight to be decided this weekend is the one for the Bronze drivers, where Kenny Habul (Mercedes-AMG) leads Tim Pappas (Porsche) by twenty points.
Saturday sees the Qualifying and Pole Shootout sessions, while the second edition of the Laguna Seca Raceway California 8 Hours starts at 9.15am on Sunday morning.


TIMETABLE (UTC -7)
Saturday October 27th
10.35-10.50 Qualifying 1 - Driver 1
11.00-11.15 Qualifying 2 - Driver 2
11.25-11.40 Qualifying 3 - Driver 3
14.40-14.55 Pole Shootout
Sunday October 28th
9.15-17.15 Laguna Seca Raceway California 8 Hours
____
HOW TO FOLLOW
All Qualifying sessions, Pole Shootout and Race will be streamed live on the website www.intercontinentalgtchallenge.com and on the Facebook-page of the Intercontinental GT Challenge.
Fans in the USA and Canada can watch the race on CBS Sports (from 9am till 11am and from 4pm till 5.30pm) and Motortrend on Demand (full race).
Live Timing is available on www.tsl-timing.com/event/184306/
___
➢ Check out the Laguna Seca Raceway California 8 Hours: everything you need to know