> AMG Team Akkodis ASP beat GetSpeed; Iron Lynx Ferrari completes the podium
> SKY Tempesta Racing's Hui/Froggatt/Spinelli/Cheever win Pro-Am Challenge class
> Race result | Championship points
AMG Team Akkodis ASP's Jules Gounon, Raffaele Marciello and Daniel Juncadella led home a Mercedes-AMG one-two at the 74th TotalEnergies 24 Hours of Spa to also claim back-to-back Intercontinental GT Challenge Powered by Pirelli wins at the start of 2022's globetrotting campaign.
The manufacturer celebrated AMG's 55th anniversary in style by winning the 24 Hours for the first time since 2013 as well as its third IGTC race in succession – a run that dates back to 2021's finale at Kyalami. And there was a little history for Gounon, too, who became the first driver to win three IGTC rounds in a row.
#88's trio were also the first crew to win Spa from pole since 2014 after beating GetSpeed's fellow factory entry shared by Luca Stolz, Maxi Goetz and Steijn Schothorst by 31 seconds. A clever strategy that maximised the final stint length moved the car into contention after it had spent most of the race hovering around the top eight.
Ferrari nor Iron Lynx could follow up their thrilling 2021 triumph with another win but Antonio Fuoco, Daniel Serra and Davide Rigon still produced a strong performance – despite the drive-through penalty that harmed their victory chances – to claim the final place on the overall and IGTC podiums.
Intercontinental's Pro-Am Challenge entries finished line astern in 26th, 27th and 28th overall but it was SKY Tempesta's Jonathan Hui, Loris Spinelli, Chris Froggatt and Eddie Cheever who crossed the line just five seconds ahead of Inception Racing Brendan Iribe, Ollie Millroy, Seb Priaulx and Frederik Schandorff. Kenny Habul and Martin Konrad maintained their championship lead by completing the podium alongside SunEnergy1 by SPS co-drivers Philip Ellis and Dominik Baumann.

AKKODIS ASP ENDS LONG WAIT FOR VICTORY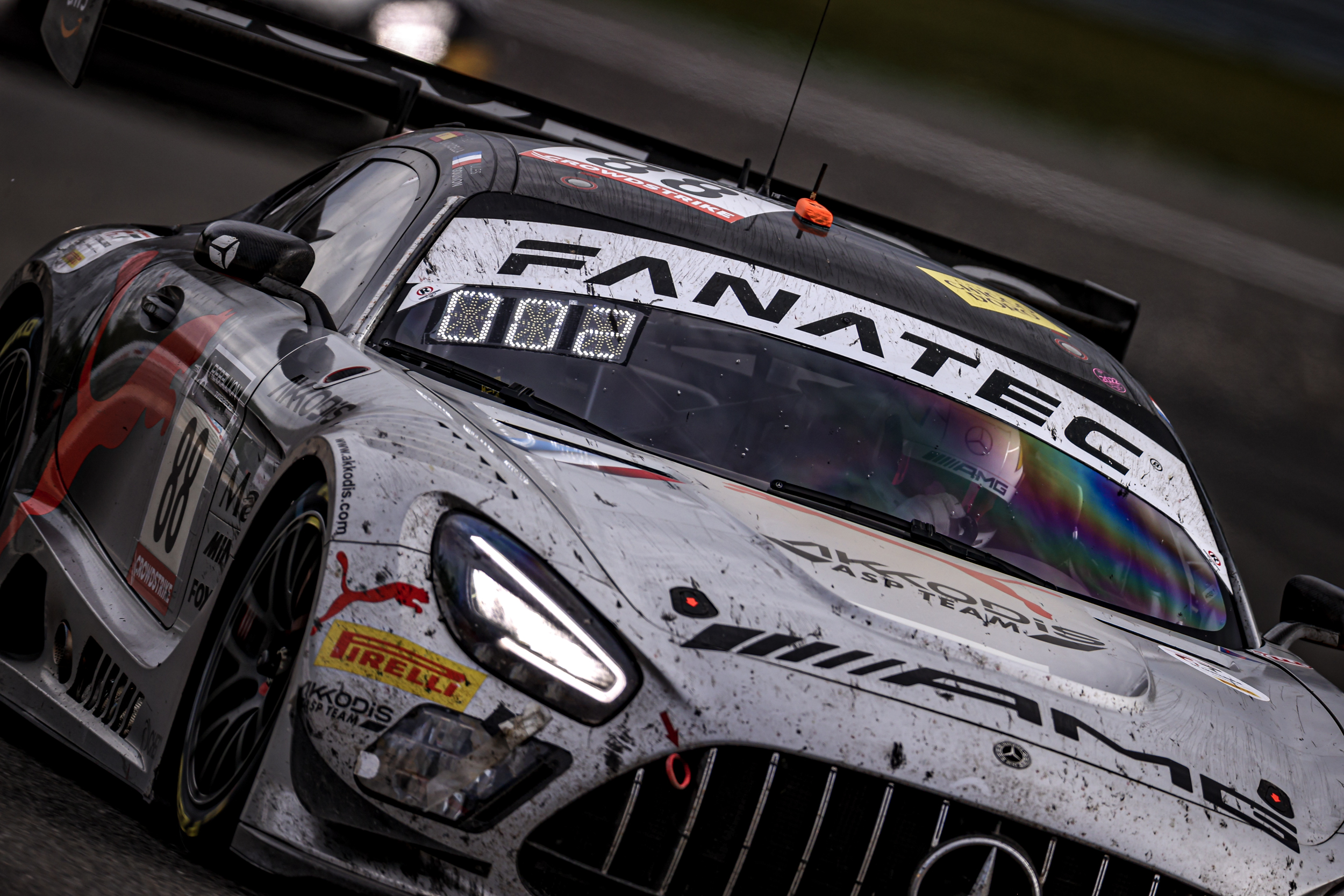 Mercedes-AMG and the team formally known as AKKA ASP have been one of the fastest combinations at Spa in recent years but had failed to bag the victory that its potential deserved.
Not so in 2022.
There was drama before the start when Orange1 K-PAX Racing was stripped of its Super Pole times for a technical infringement. Thus Marciello started up front for the third year running but was pushed down to second by Klaus Bachler before the Porsche and Mercedes-AMG reached Eau Rouge.
The Akkodis ASP car continued to track Dinamic's 911 before the first round of stops began around the hour mark. GetSpeed were among the first to pit, which allowed Stolz – who pitted from fourth – to attack the recently installed Come Ledogar and relieve him of the lead down the start/finish straight.
The pink Mercedes-AMG remained out front for the next two hours before another of the manufacturer's IGTC entries, GruppeM Racing, took over the lead thanks to a short pitstop. ROWE, among others, followed suit – a decision that moved the BMW firmly into contention after running outside of the top 10 early on.
K-PAX's Lamborghini also enjoyed a strong start despite lining up 30th as a result of its penalty. But Marco Mapelli's joy at moving up to first in the fifth hour lasted only one lap before a puncture dropped the US team off the lead lap.
Instead, ROWE and Akkodis ASP engaged in a lead battle that, as well as initially featuring Iron Lynx and GPX Martini Racing, would remain a feature of the race thereafter.
Iron Lynx's #71 Ferrari had the pace to make it a genuine three-way fight but dropped down the order when Davide Rigon collected a drive-through penalty for infringing under FCY conditions.
GPX, meanwhile, retired during the night with a drivetrain issue after looking like Porsche's best bet for victory.
Instead, Stuttgart's hopes passed – quite unexpectedly – to KCMG, which had started 65th after failing to qualify. Nick Tandy moved up 40 places during the opening stint before Dennis Olsen and Laurens Vanthoor continued the good work.
The trio moved into contention through a combination of speed, Safety Car periods and serving their mandatory Technical Pitstop at the first opportunity, but it was Tandy passing Rigon for the lead at La Source with just under 10 hours remaining that established KCMG as genuine victory contenders.
Alternative pit strategy meant ROWE and Akkodis ASP moved ahead and then behind the Porsche over the following four hours before a lengthy Safety Car period covering barrier repairs resulted in pitstops that brought the top-10 on to the same strategy and lead lap.
That lasted until just before the race went green when Akkodis ASP and KCMG caught ROWE napping by stopping early. But Beechdean AMR's Aston Martin followed them in and jumped everyone by making the shorter splash and dash fuel stop.
While KCMG subsequently switched strategies and fell away from the lead fight, the scrap between Gounon and Thiim was only just warming up. The Frenchman initially lost time after being tagged into a spin by Hui but recovered and was right behind the Dane with just under three hours remaining. The Mercedes-AMG then spotted a space down the Aston's inside heading towards Eau Rouge, jinked left and went wheel-to-wheel with Thiim who didn't give an inch. The pair remained side-by-side heading up Raidillon until the Aston's rear stepped out and spun through 360 degrees over the crest.
Beechdean AMR's victory chances were dashed at a stroke while Gounon headed off in pursuit of Rigon who was ahead on the road but behind on strategy.
The Ferrari's subsequent pitstop moved Gounon into the lead, but there was still one unexpected hurdle to clear in the shape of GetSpeed's Mercedes-AMG that had optimised its maximum stint lengths. Raw pace ultimately trumped track position, though, when Marciello – who completed the final two hours – hunted down and passed Stolz.
The Italian reeled off the final 90 minutes, including one last pitstop, untroubled to take the chequered flag unopposed out front.
GetSpeed's potential was only apparent late on but second place was still well deserved for a team that managed its pace almost to perfection. It also ensured that Mercedes-AMG scored its second IGTC one-two in as many races, extending its manufacturers' championship advantage.
Fuoco's pace over the final two hours helped Iron Lynx recover some of the ground it lost through a drive-through penalty, which lasted 72 seconds from pit in to pit out. The 488 took the chequered flag 46 seconds behind Akkodis ASP…
Mercedes-AMG came within 1.5s of sweeping the podium – a feat not achieved since Chrysler's Vipers in 2001 – thanks to GruppeM whose combination of Maro Engel, Maxi Buhk and Mikael Grenier threatened in fits and starts. Theirs was also an IGTC entry but did not score manufacturers' points due to the top two finishers rule.
Neither, also, did the Walkenhorst and ROWE BMWs that completed the overall top-six.
Instead, fourth place manufacturers' points went to Porsche courtesy of KCMG whose 911 looked like a genuine contender three hours from the finish.
Jota's McLaren fell into the same category as the BMWs, meaning Ferrari added fifth to its third place finish courtesy of Iron Lynx's second entry shared by Nicklas Nielsen, Miguel Molina and James Calado who never quite joined the list of potential winners.
K-PAX will be left to wonder what might have been after their early puncture dropped Mapelli, Jordan Pepper and Andrea Caldarelli off the lead lap, and especially so given their pace thereafter. Still, 11th overall was enough to score sixth place IGTC points for Lamborghini whose second car – Emil Frey's driven by Giacomo Altoe, Arthur Rougier and Leo Roussel – also collected points in ninth.
The Huracans sandwiched Audi Sport's two highest placed finishers on a day when the R8 had plenty of speed but little luck. An early puncture set back Attempto Racing's factory entry of Ricardo Feller, Markus Winkelhock and Dennis Marschall, but with no further issues the car pressed on to finish 12th overall and seventh in IGTC. One place behind came WRT's Silver entry that won its class and scored a handful of Intercontinental points.
Singha Racing Team TP 12's Porsche completed the manufacturers' points scorers in 30th overall.
Intercontinental GT Challenge Powered by Pirelli now heads to North America and the Indianapolis 8 Hour Presented by AWS on October 7-9.