> Manufacturers' and drivers' championship leaders start Round 3 up front
> Two tenths covers a top-five also featuring Ferrari and Lamborghini
> Results: Pole Shootout | Sarting Grid
Mercedes-AMG starts this year's Indianapolis 8 Hour Presented by AWS from prime position after Winward Racing's Jules Gounon beat the Conquest Ferrari of Alessandro Balzan to Pole Shootout's fastest time by just 0.052s.
The Frenchman, who could claim his fourth-straight Intercontinental GT Challenge Powered by Pirelli victory as well as the drivers' title on Saturday, also put Mercedes-AMG in the perfect starting spot to clinch its first manufacturers' crown. Victory would guarantee both titles.
However, the car also featuring Philip Ellis and Russell Ward will face stiff opposition from Ferrari and particularly Conquest Racing which topped Free Practice and Qualifying before falling just short in the Shootout. The car, just like Winward's, is also nominated to score IGTC points, while another 488 – Triarsi Competizione's Pro-Am example driven by Alessio Rovera – starts third after lapping less than a tenth shy of Gounon's time.
Behind, K-Pax Racing's IGTC-registered Lamborghinis driven by Jordan Pepper and Andrea Caldarelli completed a top-five covered by just 0.2s.

GOUN-ON-POLE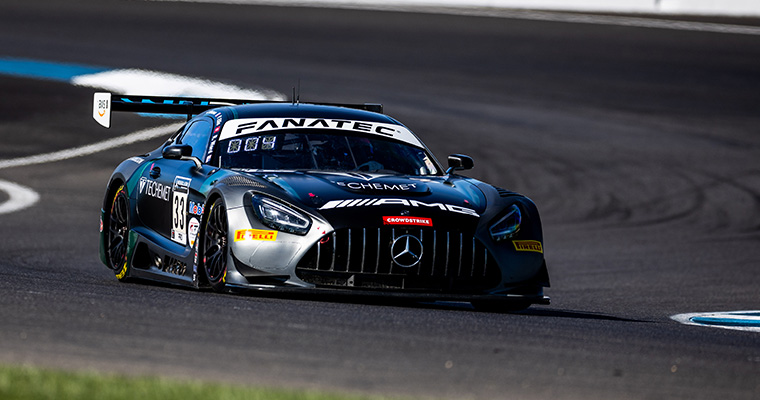 An unfortunately timed red flag in the earlier qualifying session prevented several of this year's expected victory contenders from progressing to the Pole Shootout. They included Craft-Bamboo's Mercedes-AMG and both AF Corse - Francorchamps Ferraris which, given their level of factory support, would ordinarily have been at the sharp end.
However, the top-10 showdown still delivered plenty of drama thanks to a back-and-forth battle between Conquest's Balzan and Triarsi's Rovera before Gounon pipped both to pole.
The Conquest car had only contested one Fanatec GT World Challenge America Powered by AWS event prior to Indianapolis but picked up where it had left off in qualifying by setting Pole Shootout's first representative time.
Rovera immediately went a fraction quicker only for Pepper to lower the fastest time in what proved to be a frenetic start to the 15-minute session. And that theme continued when the Ferrari duo pushed K-Pax's Huracan back down to third next time around.
Things looked to be heading Triarsi's way when Rovera went quicker again and established a one-tenth advantage over Balzan. However, the Italian wasn't done and somehow dipped 0.041s under his compatriot's best.
The elephant in the room, though, was Gounon who declined to set a time early in the session. Instead, IGTC's championship leader completed a sighting lap, pitted and re-joined the action just as the other pole contenders had called it a day.
His first flyer looked set to be a banker but the Mercedes-AMG tripped the timing beam 0.047s quicker than Balzan's best. A second effort wasn't necessary but Gounon completed it regardless to lower the pole time – which was ultimately 1m22.190s – by another five thousandths of a second.
Pepper, meanwhile, ended up just 0.032s quicker than his K-Pax team-mate Caldarelli. Both will be hoping to seal Lamborghini's maiden IGTC victory tomorrow.
Two non-Intercontinental entries were next up, Turner Motorsport's BMW taking sixth from the Racers Edge Acura, while Ryan Dalziel completed the top-eight aboard Triarsi's IGTC-eligible Ferrari.
Andretti Autosport x Vital Speed and ST Racing rounded out the Pole Shootout contenders.
Jules Gounon, Mercedes-AMG Team Winward Racing: "We just wanted to maximize the performance of the car. Warming up the brakes to a optimum temperature and extracting the maximum on the new tyres was part of that strategy. I want to thank Winward Racing for preparing such a great car. The 8 Hour is a long race, but it's a good feeling to be on pole position at Indianapolis."
Saturday's race, which is live on SRO's GT World YouTube and Twitch channels, gets underway at 12:00 EDT (GMT -4).