> Unicorns of Love's Gronewald/Tauscher/Schoeniger/Pfeffer dominate SRO Esports' endurance series finale
> Sixth enough for Murphy/Baldwin/Boothby to wrap up Pro title and €16,000 prize fund*
> FFS's Parker/Van Ommen/McAuley/Ryan-Meenan seal Silver crown
> BMW sweeps IGTC and Sprint Series Manufacturers' Championships
> 24 Hours of Spa Result | Final IGTC Championship Standings | Final Manufacturers' Standings
McLaren Veloce GT are the 2022 Intercontinental GT Challenge Esports Powered by Mobileye champions despite Mercedes-AMG E-Sports Team Unicorns of Love dominating the 24 Hours of Spa season finale last weekend (October 22/23).
Eamonn Murphy, James Baldwin and George Boothby came home three laps down in sixth – their worst result of the five-race campaign – but still did just enough to beat Nils Naujoks, Arthur Kammerer and Gregor Schill to the crown – as well as the €16,000 prize fund* – by five points after BMW Team BS+ Competition's M4 GT3 finished third.
Failure to secure pole position left Tobias Gronewald, Michael Tauscher, Dennis Schoeniger and Tobias Pfeffer unable to win the title. However, the trio still dominated the wet-dry-wet race en route to a one-lap victory over Robbie Stapleford, Charlie Crossland and Isaac Price (BMW G2 Esports), as well as third place in the final Pro standings.
Meanwhile, just 0.121s separated this year's two standout Silver entries after 24 hours of racing. But it was FFS Racing's James Parker, Jan Willem van Ommen, Joe McAuley and Killian Ryan-Meenan who took the chequered flag first to cement their class title.
In truth, the Aston Martin crew would have won the championship even if AJA Simracing Team powered by GAADI's McLaren had forced its way past on the final lap. Nevertheless, a first win of the season proved a fitting way to round out a successful campaign built on four podiums but, up to that point, no victories.
Jura Petritchenko, Luis Roters and Jakob Ostermann pushed FFS all the way, while
Sven Hettich, Tobias Schurr, Felix Arndt, Tom Gorka and Manuel Popp's Prime eRacing McLaren was the only other car to finish on the lead lap.
Manufacturers' champions were also crowned. Of the five marques officially registered, BMW scored highest across IGTC's five endurance events to beat Mercedes-AMG by 70 points. The Bavarians also beat Affalterbach to the combined GT World Challenge Esports Sprint Series crown after topping both the European and American standings.

UoL MASTER SPA'S NOTORIOUS WEATHER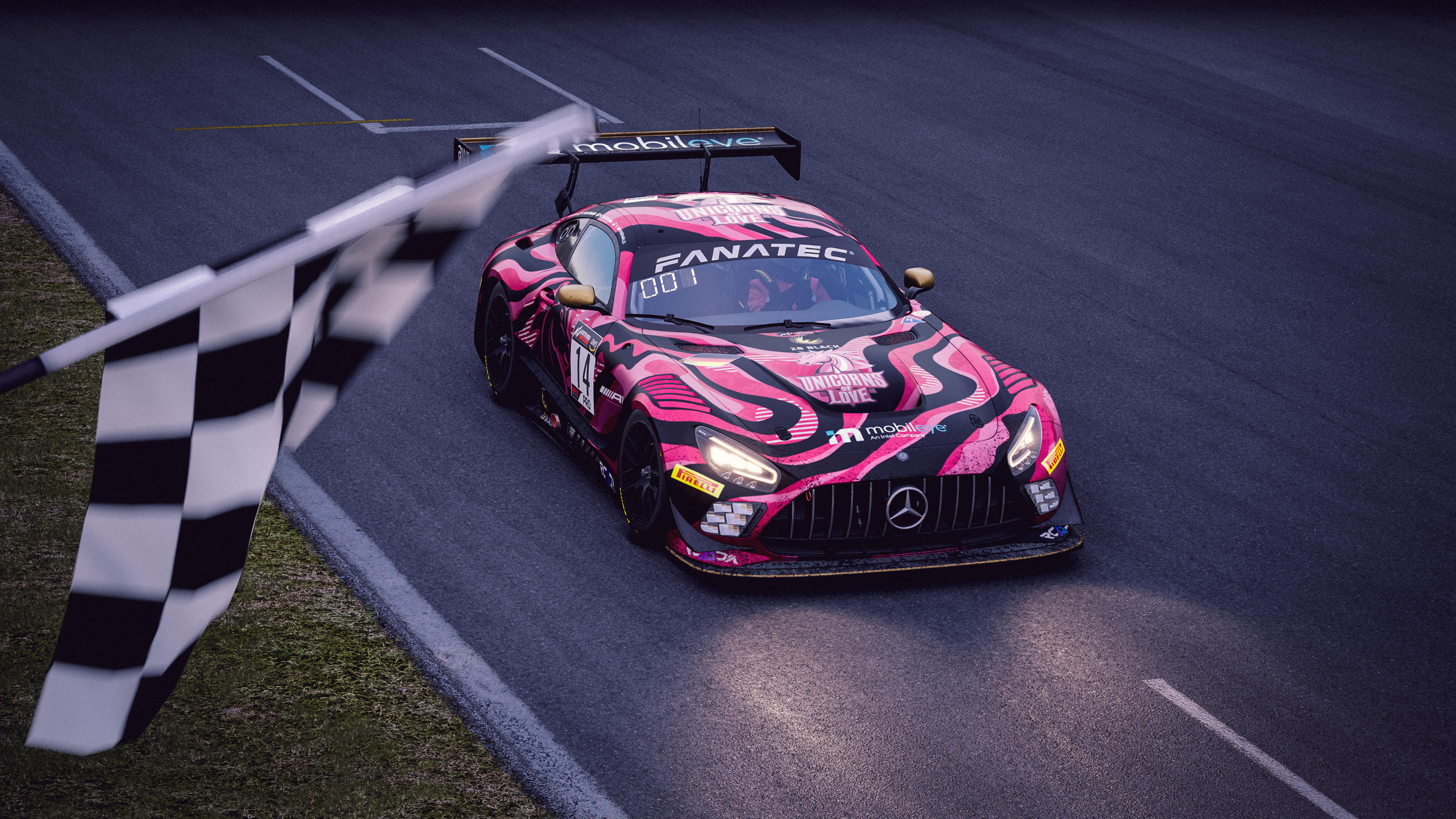 Assetto Corsa Competizione's faithful recreation of Spa-Francorchamps wouldn't be complete without stop-start showers throughout a 24-hour race. And just as in real-life, it's the mastery of those tricky conditions that separates the good from the great.
Step forward Unicorns of Love's Gronewald, Tauscher, Schoeniger and Pfeffer who secured their second-straight IGTC Esports victory by a monster margin after pulling clear of the chasing pack in the second hour. Their cause was aided by Williams Esports' pole-winning Mercedes-AMG losing the lead due to an early technical issue, but apart from that UoL were never really threatened during a race characterised by its fluctuating weather and track conditions.
Behind, BMW's top two teams traded second place throughout after the G2 entry made strong early progress from sixth on the grid. The M4s were seldom more than six seconds apart until contact and subsequent repairs in the final hour handed BS+ an apparently definitive advantage. Not so, deemed the stewards, who moved Naujoks/Kammerer/Schill back behind Stapleford/Crossland/Price in the final classification.
That decision ultimately had no bearing on the championship fight despite Veloce encountering its own problems. The 720S lined up only ninth despite qualifying just three tenths shy of pole and was soon into the top five. However, the team would be in for a tense Sunday after Murphy's miscalculation on slick tyres sent the McLaren crashing into HPD's #93 NSX while exiting the pits. The resulting repairs dropped the car to sixth – enough to give its crew the title by one point if BS+ finished second.
Team HRT's Bastian Richter, Lars Kisser, Nils Klinkmüller and Leon Otocki ensured two Mercedes-AMG E-Sports entries finished inside the top four, albeit two laps down on their race-winning stablemates, while Triton Racing's Bentley inherited fifth after Veloce's delay on Sunday morning.
Elsewhere, FFS appeared to be cruising towards victory and the Silver class title thanks to a mostly smooth 24 hours of racing. However, that all changed on the final lap, and almost opened the door for AJA to pounce, when Mobileye x Jean Alesi Esports Academy's BMW collided with the Aston Martin. The car was fortunate to continue and cross the line damaged just ahead of the chasing McLaren.
*Prize money is divided between the top 10 teams in the final championship standings. A guaranteed €35,000 cash + €8,000 in sponsors' products will be awarded to Pro class entries, and €15,000 cash + € 4,000 in sponsors' products to Silver class entries. Of these totals, championship-winning teams receive €12,000 +€4,000 (Pro) and €4,000 + €1,000 (Silver).