> Habul, Stolz and Gounon beat Manthey EMA and GruppeM in epic finish
> Hui collects maximum Intercontinental GT Challenge Powered by Pirelli Independent Cup points
> Race Result: LIQUI MOLY Bathurst 12 Hour
SunEnergy1 and Mercedes-AMG defended their LIQUI MOLY Bathurst 12 crown in epic fashion and made the perfect start to this year's Intercontinental GT Challenge Powered by Pirelli campaign by beating Manthey EMA and GruppeM Racing to victory in Australia's International Enduro.
Kenny Habul, Luca Stolz and Jules Gounon also belied their status as Pro class underdogs to lead home a top-three covered by just 1.5s at the end of a thrilling encounter around Mount Panorama where a record-breaking 53,000-strong crowd witnessed the fastest race in the event's history.
It was also incredibly close thanks to the grandstand finish between Gounon, Matt Campbell and recovering Maro Engel who fought back from a drive-through penalty in the final hour after contact with Gounon at The Chase turned SunEnergy1's Mercedes-AMG around.
Campbell, along with his fellow Porsche factory co-drivers Mathieu Jaminet and Thomas Preining, took the chequered flag just 0.9s behind Gounon after failing to work an opening over the final 20 minutes, while Engel – who shared GruppeM's Mercedes-AMG with Raffaele Marciello and Mikael Grenier – made up 14 seconds in his pursuit of the leaders.
The result saw Habul and Stolz go back-to-back at the Mountain, while Gounon became the first driver to win three 12 Hours – victories achieved across consecutive events. And Mercedes-AMG also equalled Audi Sport's record after visiting victory lane for a third time.
Team WRT's #32 BMW completed a top-four solely comprising IGTC-nominated entries.

SUNENERGY1 MAKE THE MOST OF GRUPPEM'S LATE DRAMAS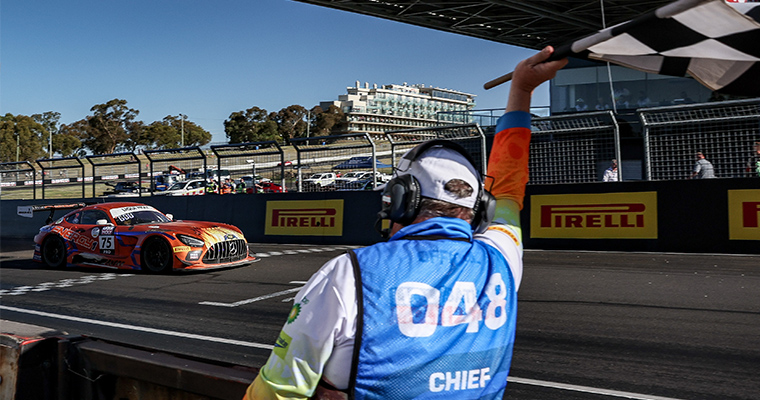 The strength of its driver crew relative to the other Pro entries made this a remarkable victory for SunEnergy1. However, the team – which received support from Akkodis ASP – also benefitted from a stroke of good fortune even before Engel's drive-through left long-time leaders and pole winners GruppeM with a metaphorical as well as literal mountain to climb.
Engel was the class of the field in the opening stint en route to a five-second lead over Supercheap Auto Racing's Maxi Goetz at the first round of pitstops. The car dropped back to fifth during the first caution period but had sufficient pace to re-emerge as the fastest front-runner despite an alternative strategy helping SunEnergy1 to spend large parts of the first six hours in the lead.
That was partly thanks to Habul completing his drive-time during the first quarter of the race, which then allowed Gounon and Stolz to keep the pressure on GruppeM, as well as Manthey EMA's Porsche which was seldom outside of the top-three all day.
Neither of the BMWs spent time in the lead on merit but they were still very much in contention until the #46 M4 shared by Valentino Rossi, Maxime Martin and Augusto Farfus was forced into the garage to repair a brake light with two-and-a-half hours left to run.
Ahead of them, the timing of Safety Cars – of which there were only a joint-record five across the 12 hours – left SunEnergy1 on a different strategy to, and swapping the lead with, GruppeM, which looked set to end the race out front. But that all changed in the penultimate hour when an issue with the data logger's modem necessitated repairs at the final pitstop.
The time lost and SunEnergy1 opting to double stint Gounon's tyres gained #75 track position, albeit with less grip and a fired up Engel right behind.
The Mercedes-AMG colleagues circulated together for the first 15 minutes of their final stint until Engel spied an opening at The Chase and went for the inside just as Gounon was taking his line. The inevitable contact sent SunEnergy1 spinning across the grass as Engel powered into the lead.
The subsequent drive-through dropped him to third behind Campbell whose 12-second deficit to Gounon was halved as a result of the contact. The incident, as well as the Porsche's fresher tyres, then helped the 2019 winner home in on the Mercedes-AMG, while Engel's pace also saw him slash the deficit over the final 30 minutes.
But Gounon hung on to take the chequered flag and his record-breaking third Bathurst victory.
Dries Vanthoor, Sheldon van der Linde and Charles Weerts never quite had the pace to challenge but still took the chequered flag a solid fourth on the BMW M4 GT3's Mount Panorama debut. The sister car looked set to complete the top-five before making its unscheduled repairs, which elevated Supercheap Auto's Triple Eight-run Mercedes-AMG.
With Habul's Pro entry ineligible to score IGTC Independent Cup points at Bathurst, the class victory went to Jonathan Hui and his Harrolds Volante Rosso Motorsport co-drivers Kevin Tse, Ross Poulakis and Josh Hunt who finished 14th overall.
Hui, as well as Habul and Stephen Grove, will battle for more Independent Cup points when the Intercontinental GT Challenge Powered by Pirelli season continues later this month at the Kyalami 9 Hour (February 23-25).